Connect With Every Patient
Your patients remember the time they spend with you and your staff. Make every interaction count by showing them that you care. By spending a few moments to clearly explain concepts, you build trust that lasts a lifetime.
Connect
Spend only a few moments per visit teaching your patients and they'll have a strong connection with you.
Build confidence
When your patients understand what you need to do, they'll have more confidence in you. This results in their reduced anxiety and improved patient compliance.
Establish trust
Every one-on-one interaction gives you the opportunity to build trust that will last for years to come.
Bring Patient Interactions to Life
Quickly and clearly explain the concepts you're trying to convey in only a few short moments. You'll save time and your patients will appreciate your care.
Buy It Now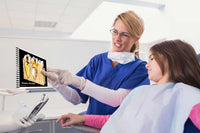 Testimonials
As a resident, I carried this book from room to room like a bible. Today, it's in every one of my treatment rooms."

Jessica Ingraham, D.D.S.
Absolutely stunning illustrations. All my patients love them. A real time saver. Many thanks."

Mark Kessler, D.M.D.
You know, I actually consider your book to be a tool in my exam rooms. One of my most valuable."

Bruno Barnes, D.D.S.
Thanks for such a great idea. Beautiful work...so helpful to our patients - and me!"

Caroline Owens, R.D.H.