When Your Patient Asks...
Quickly and clearly answer with this beautifully-illustrated dynamic flip chart. Covering all major dental and periodontal conditions and procedures, this flip chart is a must for every exam room.
Trusted by Over 10,000 Dentists
As a resident, I carried this book from room to room like a bible. Today, it's in every one of my treatment rooms."

Jessica Ingraham, D.D.S.
Absolutely stunning illustrations. All my patients love them. A real time saver. Many thanks."

Mark Kessler, D.M.D.
You know, I actually consider your book to be a tool in my exam rooms. One of my most valuable."

Bruno Barnes, D.D.S.
Thanks for such a great idea. Beautiful work...so helpful to our patients - and me!"

Caroline Owens, R.D.H.
Bring Patient Interactions to Life
Quickly and clearly explain the concepts you're trying to convey in only a few short moments. You'll save time and your patients will appreciate it.
Buy It Now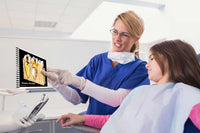 Save time
You're already running behind on appointments. Save everyone time while helping your patients get their questions answered quickly.
Stop struggling
Pictures are worth a thousand words. Use them to your advantage when explaining complex concepts like periodontal disease.
Improve understanding
Not only will you have more confidence and more time, your patients will have a better understanding and will leave your office more satisfied.
About Stephen F. Gordon
For over 40 years, Stephen F. Gordon has provided the medical profession with the very best in patient education material. He has produced over 10,000 medical and dental illustrations and paintings for journal publication, books, presentations, exhibits, patient education materials, advertising, packaging, and web sites.