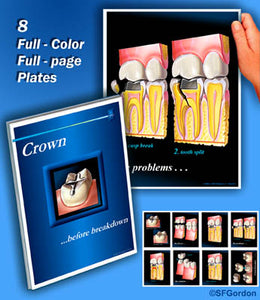 By: Stephen F. Gordon, Medical Illustrator
A great, comprehensive collection of superb illustrations depicting sequences of the forces, problems, and Crown solution for preventing the breakdown of large or old previous restoration repairs. Step- by-step visual aid for exam room consultation. Full-color large 8-1/2"x11" plates, bound. Assists patients in clearly seeing the importance of a crown for at-risk previous restorations.
30 Day Money Back Guarantee
100% satisfaction with your order or your money back.